Welcome to the World of Warcraft Name Generator! 
Are you ready to immerse yourself in the epic realm of Azeroth but struggling to unearth the ideal moniker for your character?
Our online WoW Name Generator is purpose-built to assist you in crafting unique and unforgettable names for your in-game heroes. This comprehensive guide will walk you through each step of utilizing our generator.
🏰 How the Wow Name Generator works
Step 1: Selecting the Number of Names
Once on the generator page, you'll encounter a field labeled "Amount of Names?" This field empowers you to determine how many character names you'd like to generate, with a maximum cap of 10.
Enter the desired number of names you wish to generate in the provided field.
Step 2: Choosing the Race Type
Open "Race Type" dropdown list. Here, you can specify the theme or race for the generated character names.
Select from various options, including Elf, Human, Gnome, Half-Orc, Viking, Incubus, Demon Hunters, Ice Demons, Fire Demons, Dwarf, and Dragon.
Step 3: Generating WoW Names
After specifying the number of names and the race type, click the "Create Wow Character Names" button.
Our potent generator will promptly create a list of character names tailored to your preferences.
Step 4: Choosing the Perfect Name
Peruse the list of generated WoW names and select the one that resonates most with you.
Feel free to blend and modify these names or utilize them as a springboard to conjure your unique character name.
🗡️ Popular WoW Names
Here are ten popular WoW character names to stoke your creativity:
Arthas
Sylvanas
Thrall
Jaina
Illidan
Malfurion
Tyrande
Gul'dan
Varian
Khadgar
🛡️ Top WoW Names in 2023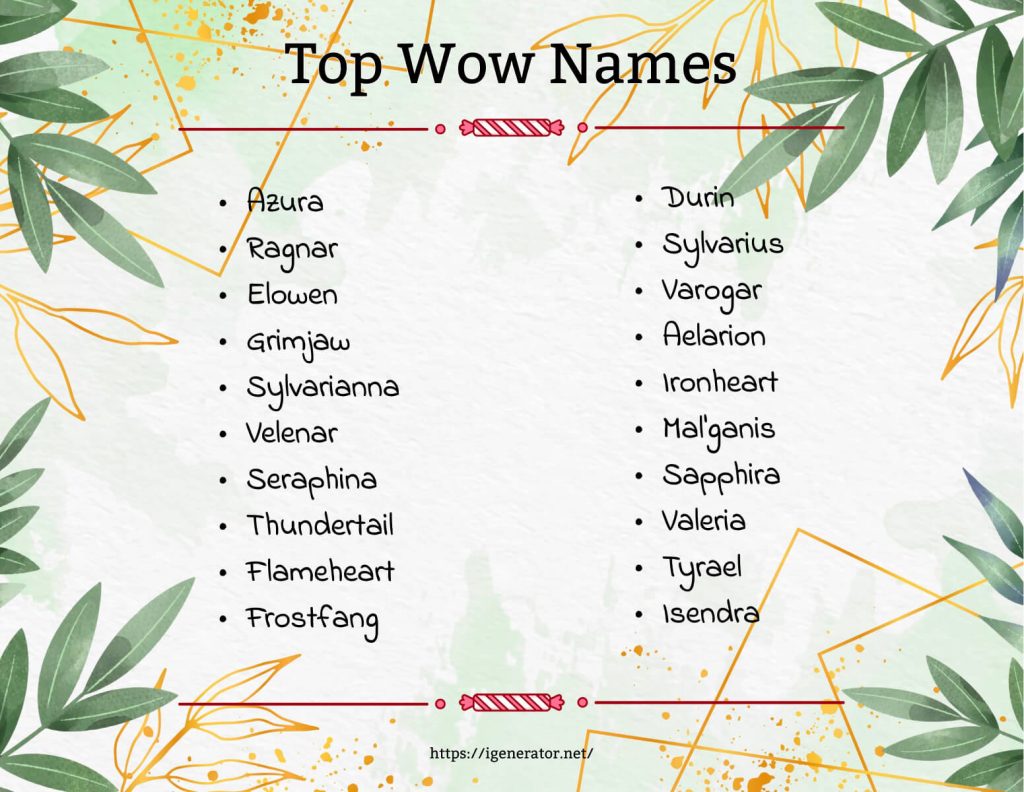 🐉 Unique WoW Names
If you're seeking something genuinely unique, consider these ten distinctive WoW character names:
| | |
| --- | --- |
| Character Name | Race |
| Aeloria | Elf |
| Grommash | Orc |
| Tyrion | Human |
| Tyr'ande | Night Elf |
| Drakon | Dragon |
| Thrain | Dwarf |
| Azarial | Gnome |
| Sylvari | Elf |
| Thundertail | Half Orc |
| Firebrand | Fire Demons |
| Frostclaw | Ice Demons |
| Infernia | Demon Hunters |
| Draconius | Dragon |
| Ironforge | Dwarf |
| Sylvaria | Elf |
| Vaelastrasz | Dragon |
| Thundertop | Viking |
| Illidara | Incubus |
| Darkblade | Gnome |
| Stormbringer | Dwarf |
Congratulations! You've successfully learned how to utilize our WoW Name Generator to unearth the character name for your World of Warcraft adventures. Whether you're a fan of humans, orcs, night elves, or dragons, our generator covers you.