🤖 Introducing the Robot Name Generator
Robot Name Generator is here to assist you. Whether you're designing a male, female, or even a robotic badass, our tool provides a vast selection of catchy names that will indeed align with your robot's unique identity.
🦾 Choose the Sum of Robot Names
To get started, decide on the number of names you'd like to generate. You're looking for a single standout name, up to 10 names, or a list of unique robot name ideas, our Robot Name Generator has you covered.
🦿 Explore Different Types
Customization is critical, and that's why our Robot Name Generator offers a diverse range of name types. Whether you're inspired by the cosmos, fascinated by the underwater world, or seeking a name with a touch of humor, you can choose from the following types:
Mixed: A combination of various themes and styles.
Male: Masculine names that exude strength and authority.
Female: Feminine names that capture Elegance and grace.
🛠️ Generate Robot Names
With your preferences set, it's time to bring your robot's identity to life. Click the "Generate Robot Names" button, and watch as our algorithm conjures a list of names that perfectly match your criteria. Each name is carefully crafted to embody the essence of the type you've chosen, whether it's a robotic shark or a cleaning bot from the future.
🚀Top Robot Names in 2023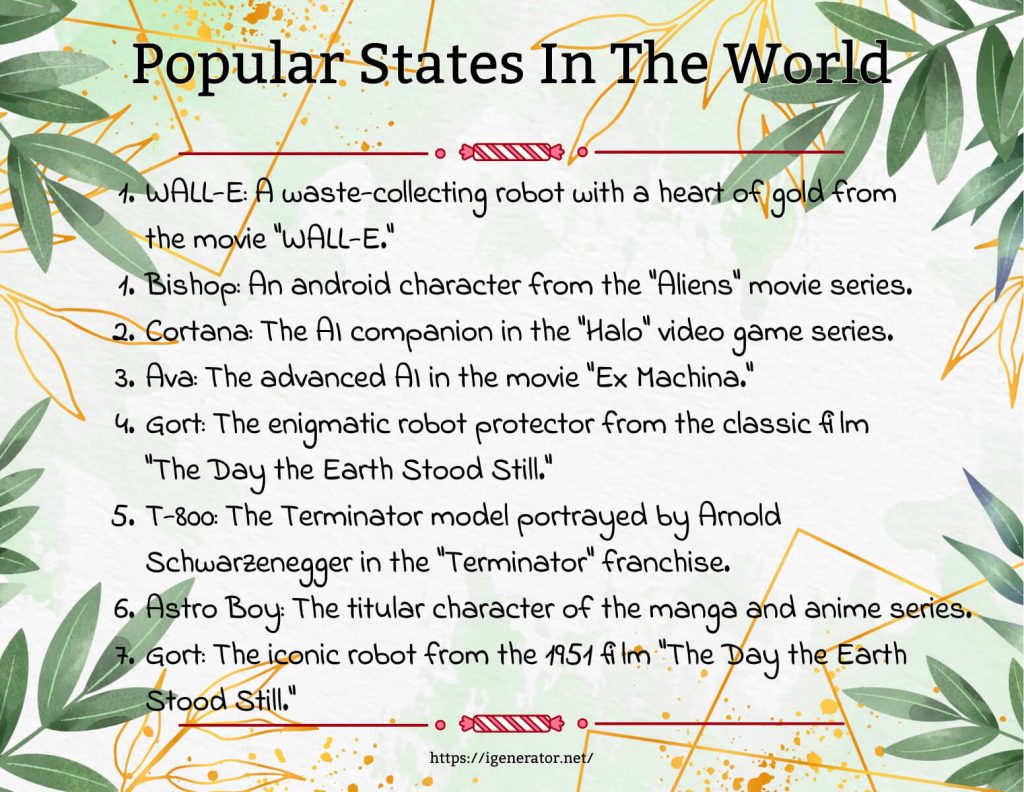 List of Most Popular Robot Names Ever
R2-D2: A beloved astromech droid from the Star Wars universe.
C-3PO: Another iconic droid from Star Wars, known for his fluent communication skills.
Wall-E: The endearing waste-collecting robot from the animated film "Wall-E."
Optimus Prime: The fearless leader of the Autobots in the Transformers franchise.
Megatron: The formidable leader of the Decepticons in Transformers.
Bender: The wisecracking, often rebellious robot from the animated series "Futurama."
HAL 9000: The sentient AI computer from Stanley Kubrick's "2001: A Space Odyssey."
Data: The android crew member on "Star Trek: The Next Generation."
Robocop: The half-human, half-robot law enforcement officer from the movie "RoboCop."
Johnny 5: The curious and friendly robot from the movie "Short Circuit."
🔌 Example Robot Names and Their Meanings
| | |
| --- | --- |
| Robot Name | Meaning and Inspiration |
| Nebula | Reflecting the beauty of the cosmos |
| Titan | A name of great strength and power |
| Aurora | Elegance and grace like the dawn |
| Electroshark | Combining electricity and the might of a shark |
| Stardust | Capturing the magic of the stars |
| Athena | Wisdom and strategic brilliance |
| Blitz | Rapid and efficient, like a lightning strike |
| Luna | The moon's serene and mysterious aura |
| Rumblebot | Embodying the energy and vigor of a rumble |
| Phoenix | Rising from the ashes with renewed strength |
Explore the endless possibilities and bring your mechanical companion one step closer to having a perfect identity!