Welcome to the My Little Pony Name Generator – your portal to the captivating realm of Equestria. 
🌈 How to Use MLP Name Generator
Round 1: Select the Quantity
Begin your enchanting journey by determining the number of MLP names.
Round 2: Choose Little Pony Gender and Type
Would you prefer the grace of Pegasus, the regality of Alicorn, the mystique of Unicorn, or the charm of the Earth Ponies? You can even opt for the endearing Female or the gallant Male pony names.
Round 3: Generate MLP Names
Once your selections are made, press the "Generate MLP Name" button. An instant, a unique set of My Little Pony names will grace your screen.
🦄 10 Unique Random MLP Names
Stardust Dreamcatcher
Thunderbolt Serenade
Blossom Meadowlark
Moonshadow Whisper
Glimmering Starstruck
Stormy Horizon
Crystalheart Harmony
Emberfire Nova
Silverwing Mystique
Velvetrose Symphony
🦋 List of the Top 20 MLP Names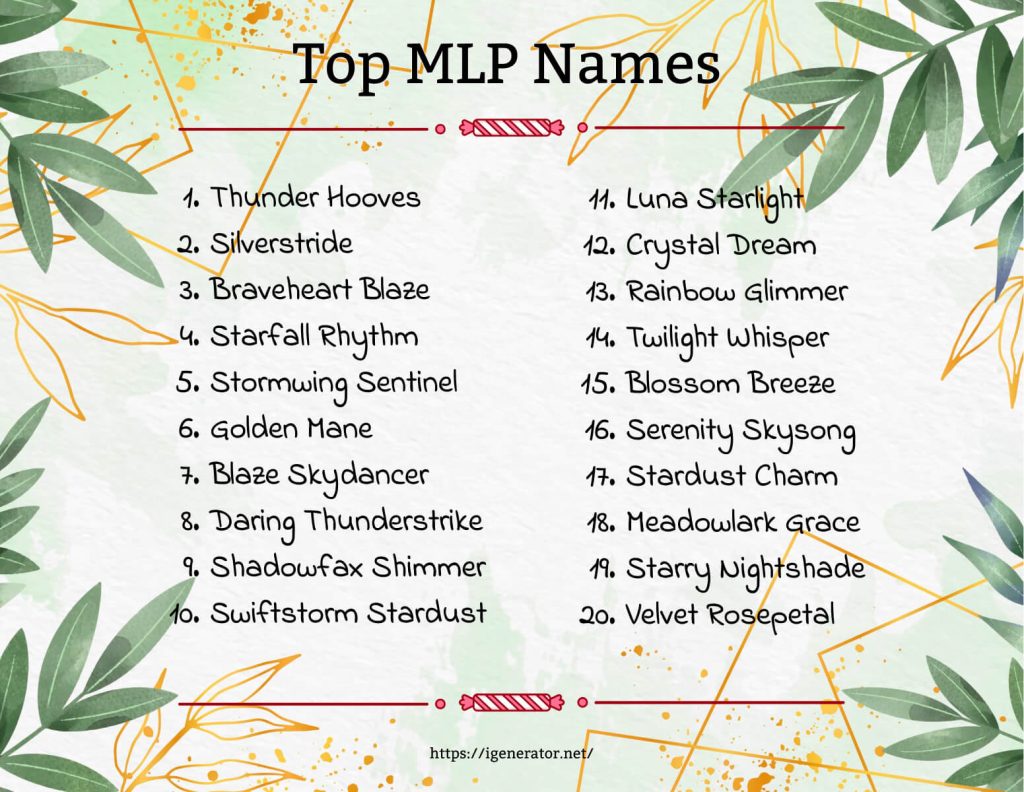 🌸 10 Popular My Little Pony Names with Meaning
| | |
| --- | --- |
| Name | Meaning |
| Twilight | Symbolizes knowledge and curiosity |
| Rainbow | Represents color, diversity, and unity |
| Fluttershy | Embodies kindness and compassion |
| Rarity | Signifies elegance and creativity |
| Applejack | Reflects honesty and hard work |
| Pinkie Pie | Epitomizes laughter and joy |
| Celestia | Stands for wisdom and leadership |
| Luna | Represents the beauty of the night |
| Discord | Embodies chaos and unpredictability |
| Spike | Symbolizes loyalty and friendship with Twilight |
Strangers from Equestria – awaken your creative spirit with our Online Random My Little Pony Name Generator. Don't hesitate to share your unique names with friends and fellow fans, and let the adventure begin!