Step into the world of eternal allure and mystique, where your vampire identity is waiting to be discovered with our Online Vampire Name Generator. Whether you have a passion for classic gothic literature or are deeply immersed in modern vampire sagas like Twilight, our generator is your companion for crafting the perfect vampire name. 
In this comprehensive guide, we'll take you through each step of using our Vampire Name Generator in meticulous detail, ensuring that you uncover the ideal vampire name for yourself or your fictional characters.
🦇 Guide for Users: How work Vampire Name Generator
Step 1: Determine the Number of Names
Our generator offers flexibility, accommodating any number between 1 and 15 names. Whether you require a singular, striking vampire name or a profusion of names for a vast coven, we've got you covered.
Step 2: Select the Gender
Next, you are invited to specify the gender of the names you desire: Male, Female, or Random. This customization enables you to align the names seamlessly with your character's persona or personal preferences.
Step 3: Generate Your Name
Once your preferences are set, simply initiate the process by clicking the "Generate Vampire Names" button.
Step 4: Your Unique Random Vampire Names
Allow us to present ten exclusively crafted, unique, and randomly generated vampire names:
🧛‍♂️ 9 Unique Vampire Names for Real Characters
Elara Nightshade
Dorian Blackthorn
Lavinia Stormrider
Silas Darkheart
Isabeau Moonshadow
Thaddeus Grimclaw
Seraphina Bloodrose
Xander Nightshade
Valerian Frostblood
🦇 Top Vampire Names in the World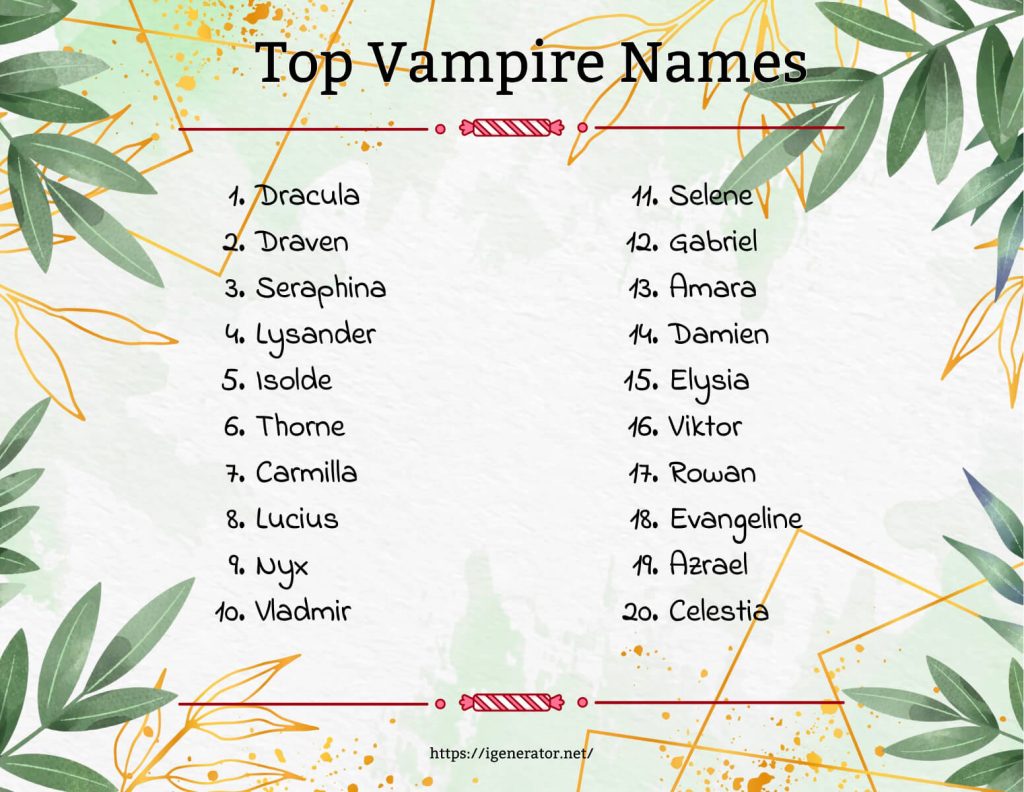 🌑Prominent Vampire Names with Significance
Congratulations! Armed with our Online Vampire Name Generator, you now possess the essential tools for the creation of the perfect vampire name, be it for your personal identity or your characters.
| Name | Meaning |
| --- | --- |
| Draven | Symbolizes the relentless "hunter of the night." |
| Seraphina | Derived from "seraphim," conveying fiery or burning essence. |
| Lysander | Brimming with power and signifying "liberator." |
| Isolde | A classic name enveloped in captivating mystery. |
| Thorne | Evoke the essence of danger and intrigue with thorny connotations. |
| Carmilla | An homage to the famous female vampire of literary renown. |
| Lucius | Imbued with authority and power, perfect for distinguished vampires. |
| Nyx | Bestow the mystique of the Greek goddess of night upon your character. |
| Valeria | Resonating with "strength" and "valor" within the realm of vampires. |
| Vladmir | An homage to the infamous Vlad the Impaler, intertwined with vampire lore. |