Greetings, esteemed patrons of the extraordinary! Prepare to embark on an exceptional journey with valor, determination, and a hint of enigma. Let us introduce you to our exclusive Online Random Superhero Name Generator—a quintessential tool meticulously crafted for discerning individuals seeking to explore and curate bespoke superhero monikers. If you're deeply entrenched in the DC or Marvel universe, a staunch supporter of cutting-edge AI technology, or someone driven by an insatiable passion for the extraordinary, rest assured that our generator is perfectly tailored to meet your requirements.
🦸‍♂️ Crafting Your Alter Ego: Step-by-Step Instructions for Using Our Superhero Name Generator
Step 1: Your Superhero Selection
Select a few or seek the whole gamut of 15.
Step 2: Your Superhero's Gender
Our generator allows you to select from three distinct options: Female, Male, or Random alternative.
Step 3: Distinct Superhero Identity
With your parameters firmly established, it is time to unveil your exclusive superhero persona. A mere click on the "Generate Superhero Name" button will set in motion the unveiling of your singular superhero soul.
🦸‍♀️ 9 Exclusive Random Superhero Names
Solarflare
Shadowstrike
Frostblade
Quantum Quake
Nebula Nova
Midnight Mirage
Celestial Sentinel
Arcane Archer
Cosmic Crusader
🌌 The Pinnacle of Superhero Friend – Top 10 Popular Superhero Names with Meaning
| | |
| --- | --- |
| Superhero Name | Significance |
| Captain Marvel | Exemplifies strength and heroism |
| Spider-Man | Possesses agile and web-slinging prowess |
| Wonder Woman | Symbolizes empowerment and justice |
| Iron Man | Distinguishes as a genius inventor with a high-tech suit |
| Black Panther | Shields the secrets of Wakanda |
| Thor | Commands the elements of thunder and lightning |
| Supergirl | Embodies Kryptonian strength and valor |
| Deadpool | Masters merciless humor and regenerative abilities |
| Green Lantern | Wields the indomitable power of will |
| Storm | Exerts mastery over the elements of weather |
⚡ List of the Top Superhero Names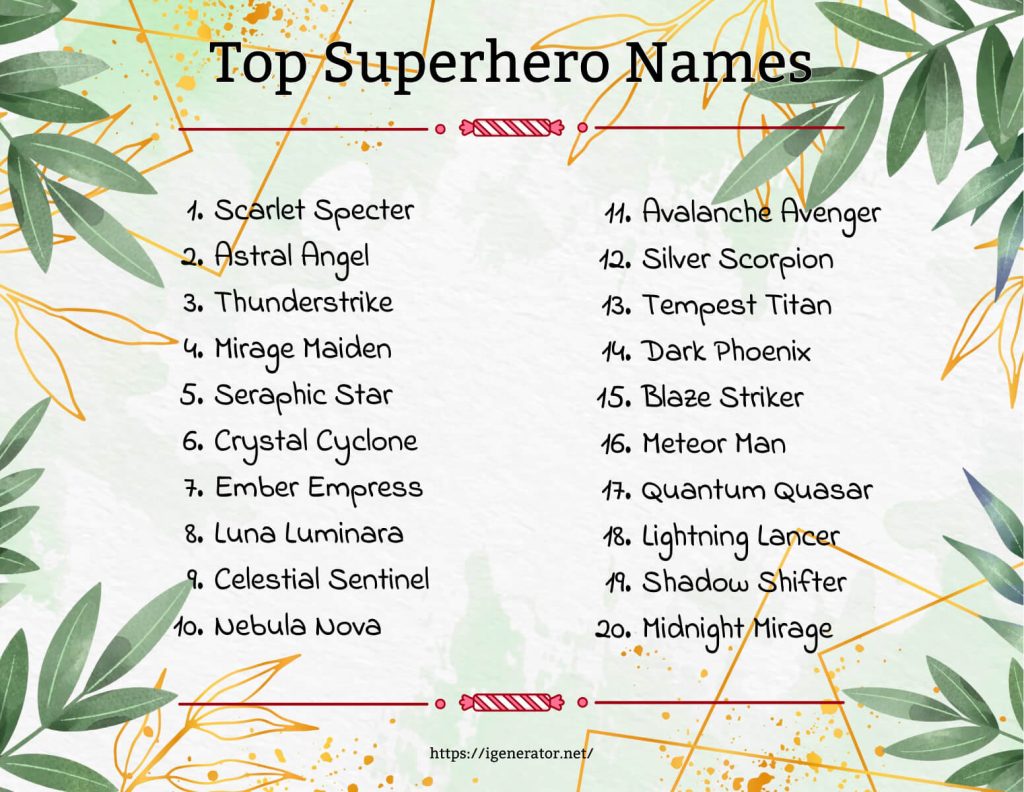 Our Superhero Name Generator transcends being a mere tool; it emerges as the portal to a realm where you mold the hero you have aspired to become.