Welcome to Online Breton Name Generator! 
Our tool allows you to generate authentic Breton names with utmost precision.
If you're a dedicated fan of the Elder Scrolls series, a connoisseur of Celtic culture, or intrigued by Breton heritage, this generator is designed to meet your discerning needs.
🏹 How to Use Breton Name Generator: Full Guide
Specify the Quantity: Step 1
Initiate the process by selecting the number of names you desire to generate. Your choice can range from a single name to a batch of 20.
Tailor by Gender: Step 2
Breton names carry nuances of gender, making it crucial to select from the following options: Male, Female, and Random.
🌿 Popular Breton Names
| | |
| --- | --- |
| Name | Meaning |
| Elain | Illumination |
| Gwilherm | Resolute Guardian |
| Rozenn | Symbol of Beauty |
| Yann | Divine Gift |
| Morgane | Enigmatic Sea |
| Branwen | Raven's Grace |
| Tristan | Stirring Ambition |
| Nolwenn | Sacred Presence |
| Idris | Masterful Interpreter |
| Luned | Purity of Heart |
🏰 Full list of the Top 20 Breton Names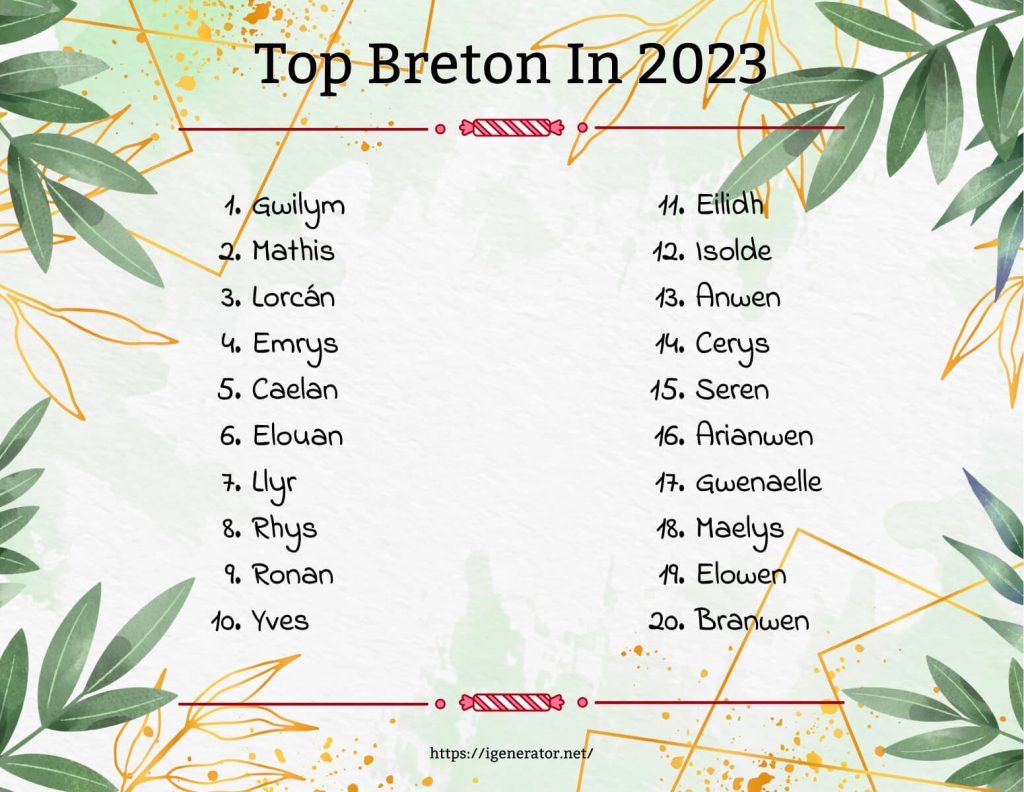 ⚔️ 10 Unique Random Breton Names
Here are ten entirely randomized Breton names:
Caelan
Seraphine
Aderyn
Madoc
Giselle
Llywelyn
Isabeau
Cadfael
Elowen
Caradoc
Our Online Random Breton Name Generator is your portal to discovering the ideal name for your character or project. With customizable quantity and gender options, you have complete control over the outcome. Whether your preference leans towards traditional or whimsical names, our generator guarantees various possibilities. Utilize these exquisite Breton names to infuse life into your narratives, gaming personas, or creative ventures.