Welcome to our Online Random Troll Name Generator, your portal to a realm where troll names breathe life into your gaming and fantasy experiences. Whether you're a fan of Dungeons & Dragons, Lord of the Rings, League of Legends, or any other fantastical universe, our Troll Name Generator is your key to finding the perfect alias for your troll character.
👹 Guide: How to Use Random Troll Name Generator
Step 1: Selecting the Total Number of Generated Names
Begin by choosing the total number of names you wish to generate. Use "Total (max: 15)" to specify your desired quantity.
Step 2: Specifying Gender (Optional)
For those with a specific gender preference for their troll character, our gender selection feature is at your service. Choose from Male, Female, or Random.
Step 3: Generating
Click the "Generate Troll Name" button.
🌲 Top Troll Names: The Most Popular Names
| | |
| --- | --- |
| Name | Meaning |
| Grimbark | Protector of the forest |
| Snaggletusk | Cunning and quick-witted |
| Frostgrip | Master of ice and frost |
| Stonemaw | Resilient and unyielding |
| Bloodfang | Known for ferocity in battle |
| Thundershock | Wielder of lightning powers |
| Ironhide | Impervious to harm |
| Shadowblade | Master of stealth and shadows |
| Wildheart | A free spirit of the wilderness |
| Firebrand | A fiery temperament and powerful magic |
👣 List of the Best Troll Names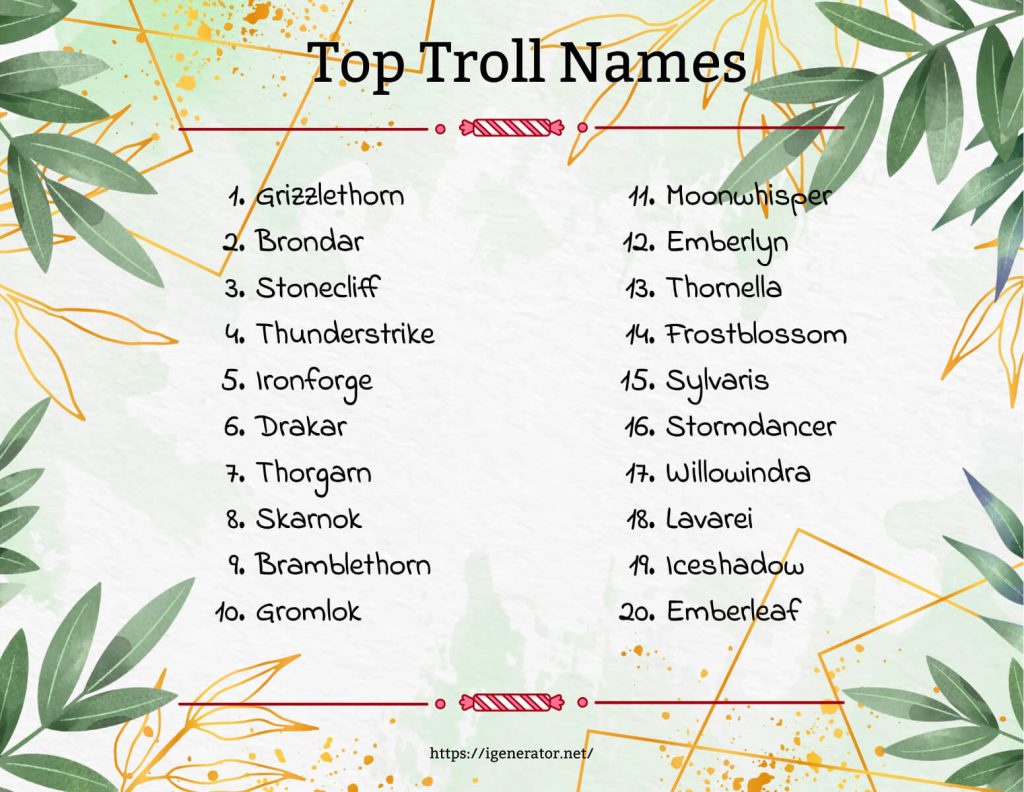 🪓One-of-a-Kind Troll Names: Explore 10 Unique Troll Names
Here are 9 unique troll names to spark your creativity:
Gloomspike
Mossbeard
Stormclaw
Nightshade
Emberforge
Driftwood
Frostpelt
Thornshadow
Boulderjaw
Silvermoon
Our Troll Name Generator opens the gateway to a world of fantasy and adventure. If you're an enthusiast of famous fantasy realms like Lord of the Rings, a dedicated Dungeons & Dragons player, or an online gaming aficionado in League of Legends or World of Warcraft, our generator has you covered. With many options, you'll always have enough troll name ideas.