Welcome to our Angel Name Generator – the celestial tool that allows you to discover unique and divine names for your characters, games, or personal delight. Whether you're seeking inspiration for a guardian angel or a character in your D&D campaign, our generator has you covered. Read on to find out how to use this heavenly feature and unlock the power of angelic nomenclature.
🕊️ How Works Angel Name Generator
Step 1: Select Your Quantity
Start by selecting the quantity of angelic names you want to generate. You can choose any quantity from 1 to 10.
Step 2: Define the Gender
Next, choose the gender of the angel names you desire. You have three options:
Mixed: A diverse selection of angel names.
Male: Angelic names with a masculine touch.
Female: Ethereal names with a feminine grace.
Select the one that resonates with your vision, and move on to the next step.
Step 3: Generate Angel Names
After specifying the quantity and gender, click the "Generate Angel Names" button. Our Angel Name Generator will work, conjuring up a list of angel names tailored to your preferences.
🚀 Popular Angel Names
Before we delve into the unique angel names, let's take a moment to honor some of the most beloved celestial beings. Here are 10 popular angel names that have graced both mythology and our hearts:
Gabriel
Michael
Raphael
Uriel
Seraphiel
Metatron
Azrael
Ariel
Cassiel
Chamuel
These names have stood the test of time, and you can find variations in our generator.
🌟 Top Angel Names Ever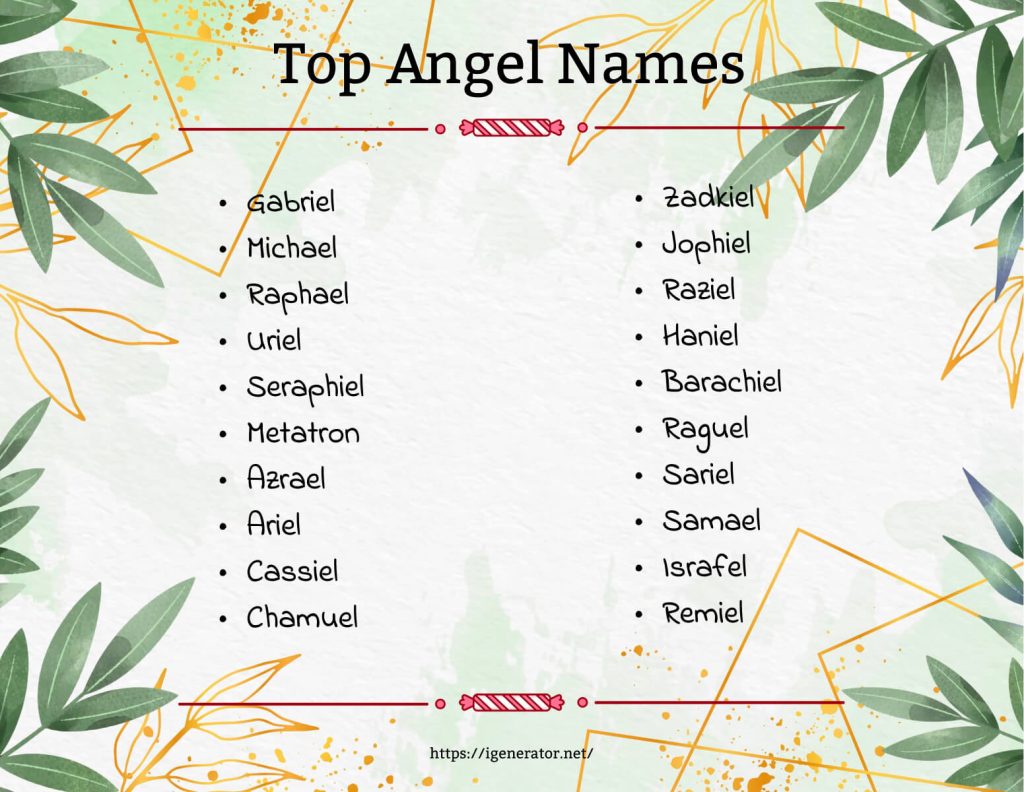 ❤️ Explore Unique Angel Names
Now that you have your popular angel names, it's time to dive into uniqueness. Here are 10 angel names that you won't find just anywhere – perfect for your creative projects:
Zephronia
Lumiel
Thalassiel
Celestria
Ignisael
Elysium
Aethralis
Selendriel
Veridian
Seraphina
If you're embarking on a creative project, a role-playing game, or simply indulging in the beauty of celestial names, this tool is your key to unlocking the ethereal.