Welcome to our online Male Name Generator – your one-stop solution for generating unique and diverse male names for any purpose. 
In this guide, we'll walk you through the easy steps to use our generator effectively, provide popular and unique name suggestions, and offer insights into the diverse world of male names.
👨 Guide for Male Name Generator
Step 1: Accessing
To start, visit our web page and locate the "Online Male Name Generator." You'll find a user-friendly interface with various options to customize your name-generation experience.
Step 2: Choosing the Count of Names
Click on the "Count of Names" dropdown menu. You can select any number between 1 and 20 for the number of names you'd like to generate. This allows you to tailor your results to your specific needs.
Step 3: Generating
After choosing the quantity, click the "Generate Male Names" button. Our generator will instantly provide you with a list of male names based on your preferences.
🕴️ Table of 10 Popular Male Names
Before we delve into the details, let's take a look at ten popular male names that our generator often suggests:
| | |
| --- | --- |
| Name | Meaning |
| James | Supplanter |
| William | Resolute protector |
| Benjamin | Son of the right hand |
| Alexander | Defender of the people |
| Michael | Who is like God? |
| Daniel | God is my judge |
| Christopher | Christ-bearer |
| Matthew | Gift of God |
| Joseph | May he add, increase |
| Andrew | Manly, brave |
🙇‍♂️ List of Top 20 Male Names in 2023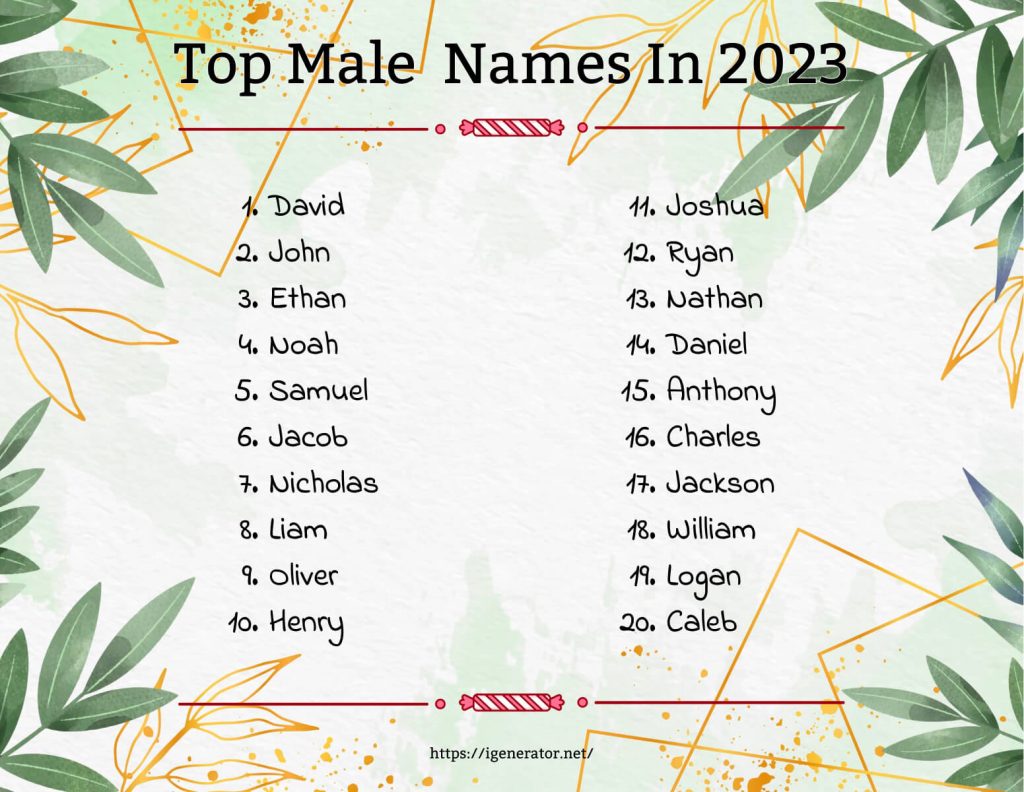 🤵 9 Unique Male Names
If you're looking for something more unique, here's a list of ten distinctive male names that our generator can generate:
Thorne
Kael
Orion
Ajax
Evander
Ragnar
Hiroshi
Oberon
Atticus
With our Male Name Generator, you have the power to create male names that suit your specific needs, from realistic and traditional to imaginative and fantastical. Whether you're an author, gamer, or parent-to-be, our tool offers many options. Don't hesitate to experiment with various quantities and keywords to discover the perfect male names for your unique purposes. Enjoy exploring the world of male names with ease and convenience!