Welcome to our Random Anime Name Generator! Whether you're an anime enthusiast, a gamer, or need a unique username. In this guide, we'll walk you through how to use our Anime Name Generator effectively and provide you with popular and unique anime names.
🎯 How to Access the Anime Name Generator
Choosing Your Anime Name:
Step 1: On the page, you'll find a "Sum of generated Anime Names" section where you can choose the number of names you want to generate.
Step 2: Select the number of names (up to 10) using the "How Many Names?" menu.
Step 3 (Customizing by Gender): Personalize your anime names by choosing a gender from the "Gender:" dropdown list.
Step 4 (Generating Anime Names): After specifying the quantity and gender, click the "Generate Anime Names" button to create unique anime names.
✨ Top Anime Names in 2023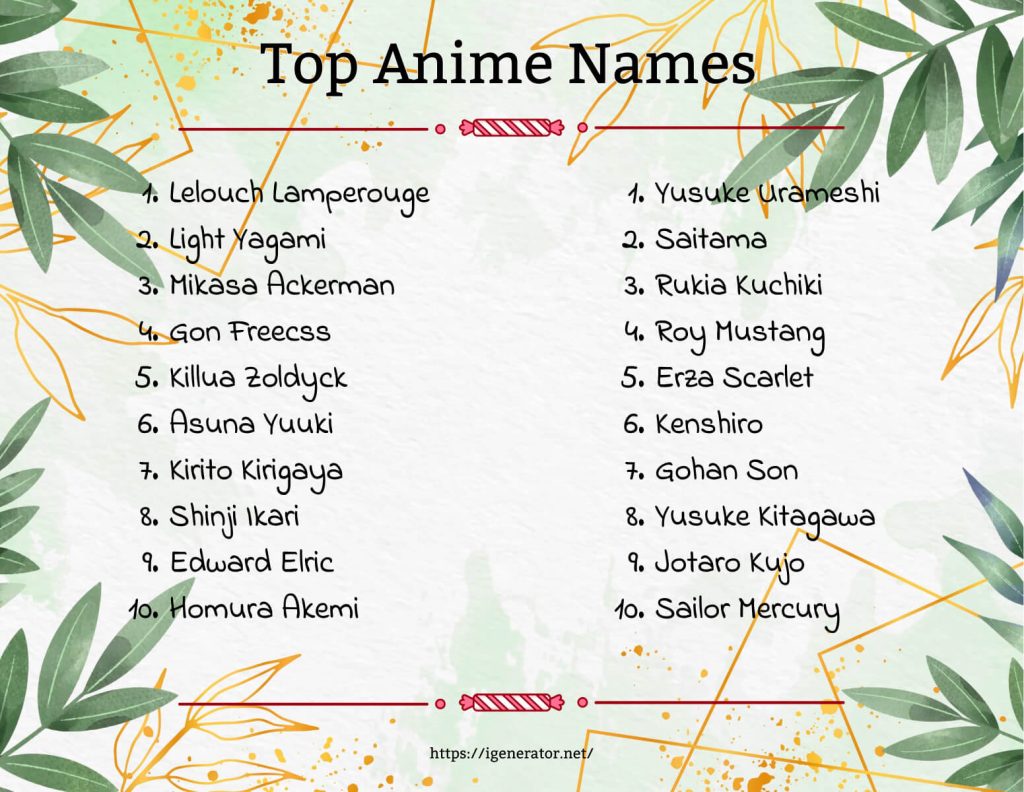 📖 Popular Anime Names
Here are 10 popular anime names that have captured the hearts of fans worldwide:
Naruto Uzumaki
Goku Son
Sailor Moon
Luffy Monkey D.
Inuyasha
Pikachu
Sakura Haruno
Edward Elric
Kenshin Himura
Ichigo Kurosaki
🚀 Unique Anime Names
Check out these 10:
| | |
| --- | --- |
| Anime Name | Gender |
| Ryuko Onyx | Female |
| Raiden Thunderheart | Male |
| Seraphina Tsukino | Female |
| Kaito Silverclaw | Male |
| Aria Frostfire | Female |
| Haruki Shadowblade | Male |
| Kohana Stardust | Female |
| Kaijiro Emberfang | Male |
Anime names can transform you into a legendary hero or a formidable antagonist. Whether you're a fan of sword-wielding warriors or magical wizards, our generator can provide the perfect name for your character.
Anime and manga go hand in hand. Use your anime name not only as a username but also as an identity within the exciting world of manga and anime fandom.