In the vast world of storytelling, whether you're crafting a novel, role-playing in Dungeons and Dragons, embarking on epic adventures in video games like World of Warcraft or Lost Ark, or even creating characters for your comic or cartoon, one crucial element always stands out – the character's name. A great character name can breathe life into your creations and make them unforgettable. That's where our online Random Character Name Generator comes into play.
👽 Guide for Our Generator
In this guide, we'll walk you through how to use our Character Name Generator to find the perfect moniker for your characters.
Step 1: Accessing the Character Name Generator
Step 2: Setting Your Preferences
Select the Number of Names (max: 10): Begin by choosing how many character names you want to generate. You can select a maximum of 10 at once.
Gender: Next, pick the gender for your character names. You have three options:
Step 3: Generating Your Character Names
Once you've selected, it's time to create your character names. Click the "Create a Character Name" button.
Step 4: Exploring Your Character Names
After clicking the button, you'll receive a list of character names based on your preferences. These names are perfect for various settings, including fantasy worlds, DND characters, books, video games, and more.
Step 5: Choosing the Perfect Name
Scroll through the list and pick the name that resonates most with your character or story.
🧟‍♀️ 10 Popular Character Names Ever
Before we dive into our extensive list of character names, let's take a look at 10 popular character names that have left their mark on various fictional worlds:
| | |
| --- | --- |
| Name | Gender |
| Luke Skywalker | Male |
| Hermione Granger | Female |
| Aragorn | Male |
| Lara Croft | Female |
| Mario | Male |
| Samus Aran | Female |
| Lara Croft | Female |
| Link | Male |
| Princess Leia | Female |
| Indiana Jones | Male |
🧛‍♂️ List of the Top 20 Character Names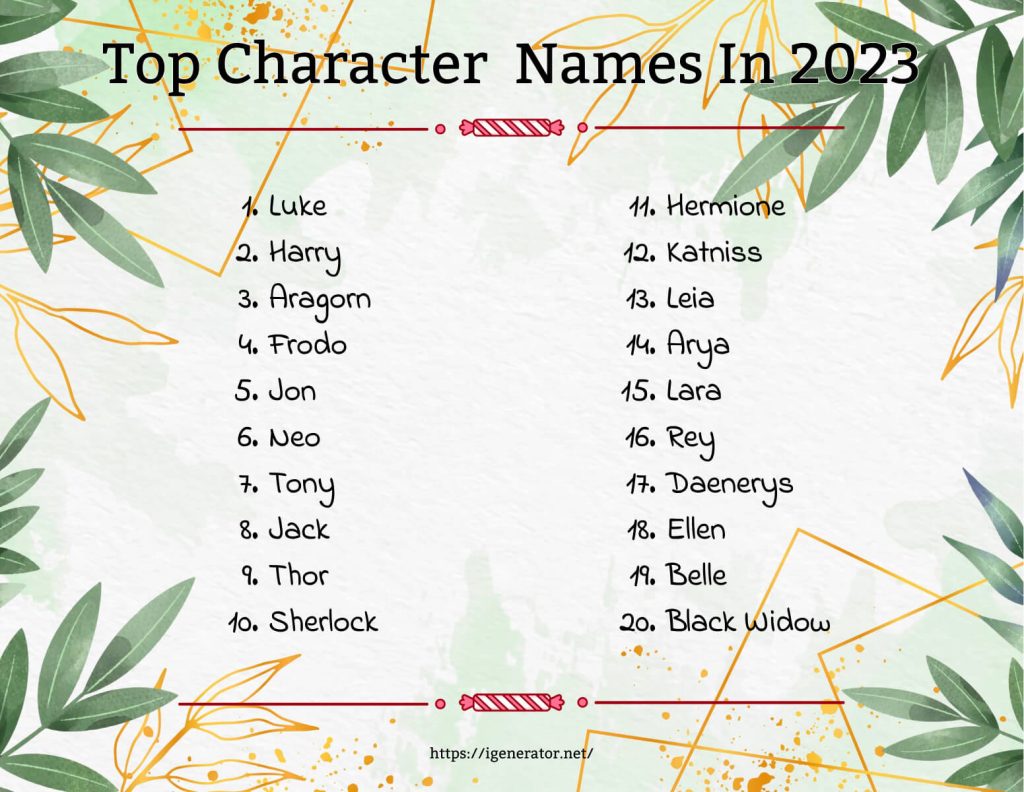 🧙‍♀️ Random Unique Character Names
Now, let's explore 10 unique random character names generated by our tool:
Seraphina Moonshadow
Thorne Ironheart
Elowen Frostfire
Orion Shadowcaster
Aurora Swiftblade
Magnus Emberforge
Nyx Starfall
Caelum Stormseeker
Astrid Frostbloom
Each of these names holds its charm and personality, making it easier than ever to breathe life into your characters for games like PUBG or Animal Crossing, stories, or even cartoons. The possibilities are as vast as your imagination.
Our Character Name Generator is not just a tool; it's your creative companion. It's perfect for writers, gamers, and creators across the spectrum. Whether you're looking for last name ideas for your characters, brainstorming character name ideas for a novel, or simply having fun generating unique names, we've helped.