Welcome to our Online Random Quick Name Generator! Whether you need a catchy nickname, character names for a story, or just some creative inspiration, our Quick Name Generator is here to assist you. 
In this step-by-step guide, we'll walk you through using our tool effectively to generate the perfect names for your needs.
⚡ How to Use Our Quick Name Generator
Step 1: Choosing the Quantity
Start by selecting the number of Quick Names you want to generate. You can choose any quantity between 1 and 10. Use the "How Many" field to set your desired number.
Step 2: Selecting the Gender
Next, decide the gender of the names you want to generate. You have three options:
Male
Female
Random (mix of both)
Step 3: Generate Quick Names
Once you've set the quantity and gender preferences, click the "Generate Quick Name" button. Our robust algorithm will instantly create a list of unique Quick Names tailored to your specifications.
🏃‍♂️ 10 Popular Quick Names with Meanings
Here are some popular Quick Names, along with their meanings
| | |
| --- | --- |
| Name | Meaning |
| Ava | "Bird" or "Life" |
| Liam | "Strong-willed warrior" |
| Mia | "Mine" or "Bitter" |
| Noah | "Rest" or "Comfort" |
| Emma | "Whole" or "Universal" |
| Ethan | "Strong" or "Firm" |
| Olivia | "Olive tree" |
| Aiden | "Little fire" |
| Sophia | "Wisdom" or "Skill" |
| Jackson | "Son of Jack" |
🕒 9 Unique Random Quick Names
Seraphina
Orion
Athena
Jasper
Esme
Maverick
Celeste
Kairos
Thalia
💨 Top 20 Quick Names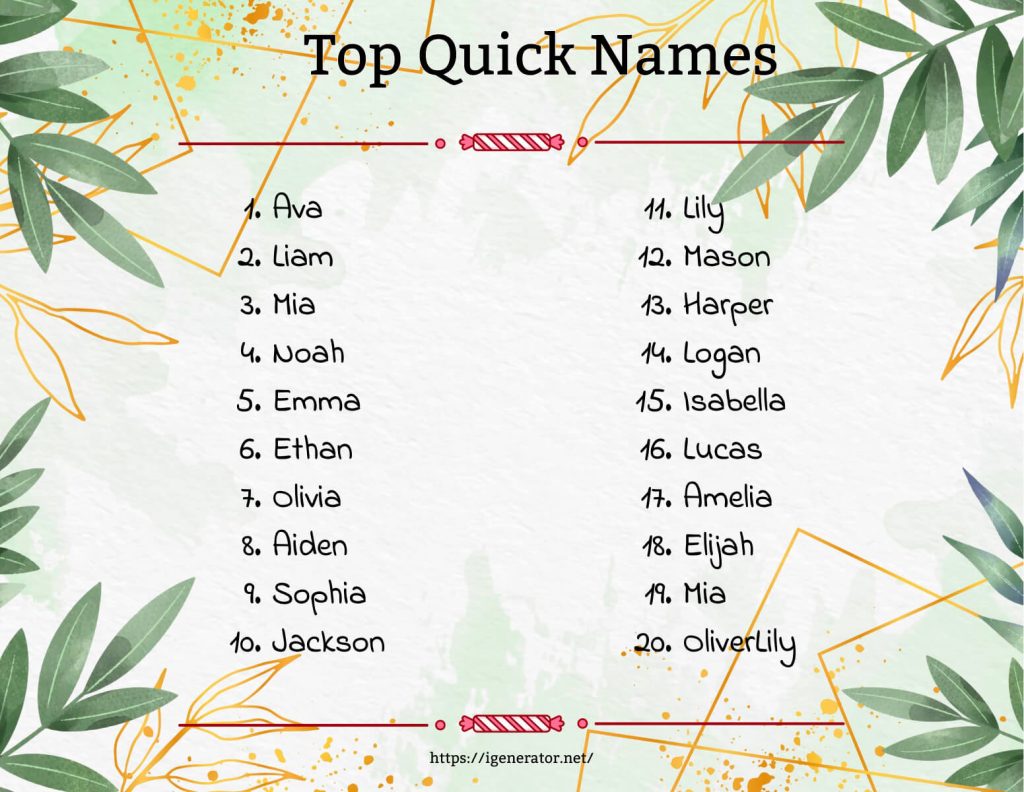 Our Quick Name Generator is your go-to tool for effortlessly generating attractive and diverse names. Our generator covers you whether you're looking for character names, usernames, or creative fun.