Generate Unique German Names with Ease!
Are you in search of the perfect German name for a character, story, or project? State-of-the-art German Name Generator is here to help you find the ideal name that resonates with the rich culture and history of Germany. With just a few clicks, you'll have access to a variety of authentic names, spanning from the medieval ages to modern times.
🏆 How Does the German Name Generator Work?
Using the German Name Generator is as simple as eins, zwei, drei!
Follow these quick steps:
Choose the Quantity: Select the number of names you'd like to generate.
Specify Gender(Optional): Are you seeking a male, female, or a completely random name? You have the option to fine-tune your results by selecting the gender of the generated names.
Click"Generate German Names": With a single click, watch as our algorithm springs to life, curating a selection of authentic German names tailored to your preferences.
🌟 Top German Names in 2023
Variety of names that capture the essence of Germany.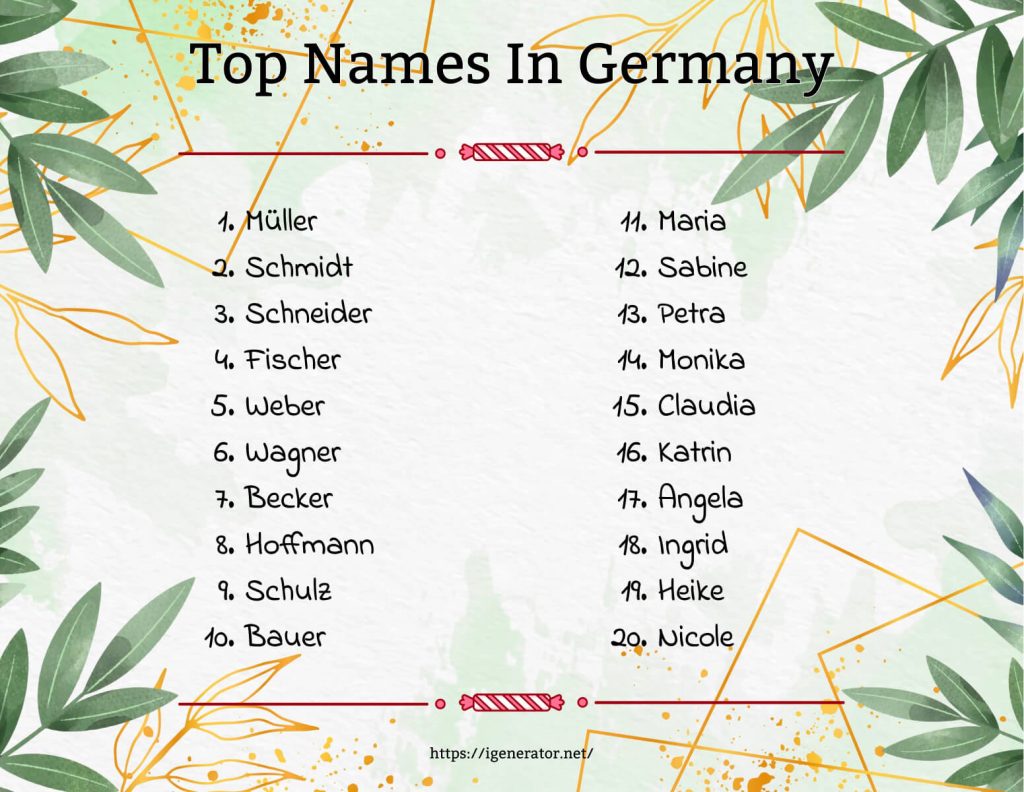 🥇 Explore Popular German Names
Male:
Maximilian
Lukas
Anton
Florian
Benjamin
Female:
Isabella
Emilia
Helena
Johanna
Leonie
🏰 Examples of Germany Names
| | | |
| --- | --- | --- |
| Male | Female | Surnames |
| Friedrich | Emma | Müller |
| Karl | Sophie | Schmidt |
| Wilhelm | Anna | Schneider |
If you're writing a compelling story, need names for characters, or are simply fascinated by German culture, the Random German Name Generator is your indispensable assistant.