Welcome to our Online Random Company Names Generator! Here, you can effortlessly create unique and eye-catching company names tailored to your needs. If you're starting an online business, a shop on Shopify, or a charming Etsy store, we've got you covered. Follow these simple steps to discover the perfect name for your venture.
💼 Step-by-Step Guide – Company Names Generator
Step 1: Select the Sum
Step 2: Choose the Count of Company Names
Decide how many company names you'd like to generate. You can choose a maximum of 10 names with just a few clicks.
Step 3: Click "Generate"
Once you've selected the quantity of company names you want, click the "Generate a Company Names" button and watch our AI-powered generator work.
Our online tool is designed to provide you with many options for your business, if it's an e-commerce store. It's free, easy to use, and generates catchy and unique names to set your company apart.
Powered by cutting-edge AI technology, our tool creates names that are both good and exceptional. It takes into account keywords like "catchy," "thrift," and "unique" to ensure your company name stands out in a crowded marketplace.
We offer a wide variety of options. You can specify the sum of generated random company names, ensuring you get names that match your vision and goals.
No matter what you're selling, whether it's clothing, jewelry, furniture, pet products, crafts, or vintage antiques, our generator can provide you with a name that encapsulates the essence of your business. From shoe companies to candy shops, we've got it all covered.
🏢 The Top 10 Popular Random Company Names with Meaning
| | |
| --- | --- |
| Company Name | Meaning |
| CraftyCreations | For the artistic soul in you. |
| ShoeShangriLa | Step into a world of style. |
| SweetToothTreats | Satisfy your candy cravings. |
| VintageVista | A glimpse into the past. |
| PetPamperPalace | Where pets are kings and queens. |
| BlingBoutique | Your one-stop jewelry destination. |
| CraftyComforts | Adding coziness to your life. |
| FurnitureFinesse | Elevating your living space. |
| NatureNest | Bringing the outdoors in. |
| EcomExcellence | Excellence in ecommerce. |
📈 Best Company Names Ever!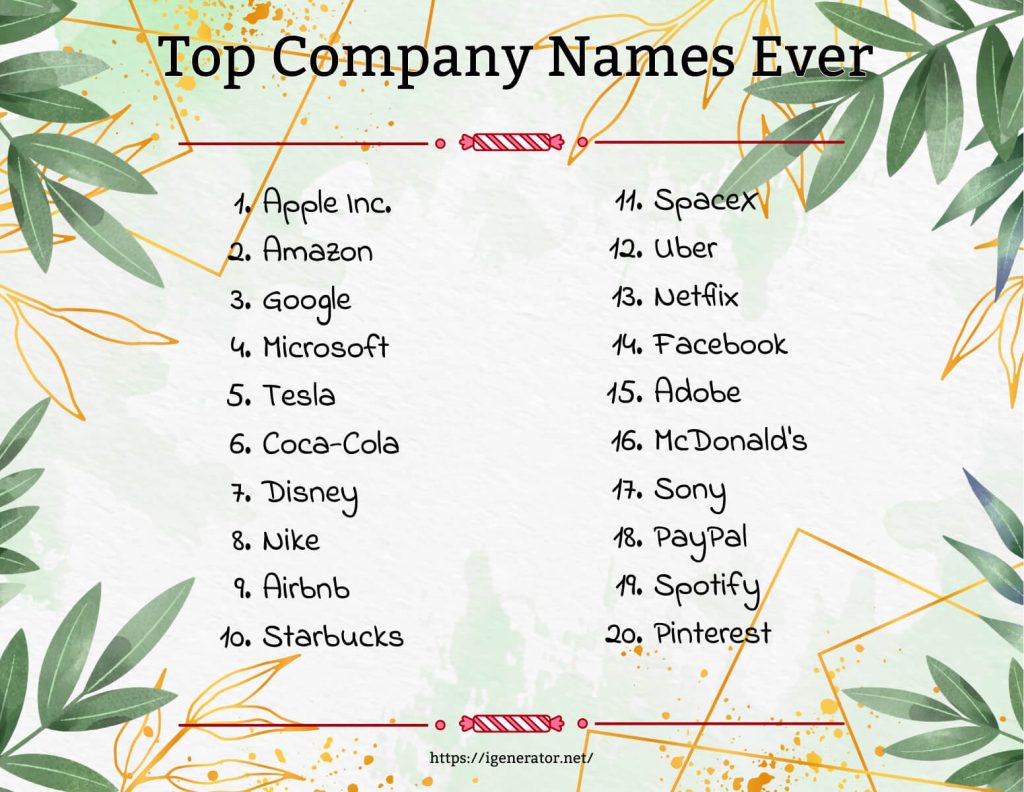 📊 10 Unique Random Company Names
WhimsiWares
PurrfectPicks
GleamCrafters
ModaFusion
SparkNova
SoleSerendipity
QuirkNook
CraftyCuriosities
VerdantVignettes
JewelWhisper