Welcome to our Online Random Blog Name Generator, a powerful tool designed to assist you in finding the perfect name for your blog effortlessly. Whether you're a lifestyle enthusiast, a passionate writer, or a travel aficionado, our generator caters to everyone's needs with diverse suggestions. Follow these simple steps to unlock a world of unique and attention-grabbing blog names!
💻 How to Use the Blog Name Generator
Step 1: Choose Quantity
Select the number of blog names you wish to generate (up to 10) using the Quantity dropdown menu.
Step 2: Click "Generate Blog Names" Button
Once you've set your preferences, hit the vibrant button to unleash a myriad of creative blog names curated just for you.
📚 Unlock Your Blog's Potential with Our Blog Name Generator
Are you seeking the ideal blog name to kickstart your online presence or refresh your existing platform? Our blog name generator ignites your creativity and provides many options. If you're targeting a specific niche like travel, moms, lifestyle, or catering to a broader audience, our tool effortlessly delivers compelling and catchy blog name ideas.
Finding the right blog name is pivotal in establishing your online identity. Our generator ensures a smooth, hassle-free experience by offering unique, calm, and attention-grabbing words that resonate with your blog's theme or purpose. With the ability to generate up to 10 blog names in one go, you'll have a diverse list of possibilities to explore.
🗂️ Why Choose Our Blog Name Generator?
Our generator stands out for its versatility and ability to cater to various interests. Our tool covers a broad spectrum of topics, from beauty and mental health to Instagram food influencers and sports enthusiasts. Whether you're a budding writer, a seasoned blogger, or a creative soul embarking on a new venture, our generator guarantees blog names that stand out.
🖋️ 10 Popular Random Blog Names with Meaning
| Blog Name | Meaning |
| --- | --- |
| Wanderlust Diaries | Perfect for Travel Enthusiasts |
| MomLife Chronicles | Tailored for Moms |
| Lifestyle Odyssey | Ideal for Diverse Content |
| Serene Reflections | Suited for Personal Blogs |
| The Writer's Nook | Targeting Aspiring Writers |
| Beauty Bliss Quest | Catering to Beauty Enthusiasts |
| Mindful Musings | Focus on Mental Health Topics |
| Gourmet Adventures | For the Foodies on Instagram |
| Athletic Edge | Aimed at Sports Enthusiasts |
| Literary Feast | Ideal for Book Lovers |
📝 Top 20 blog names Ever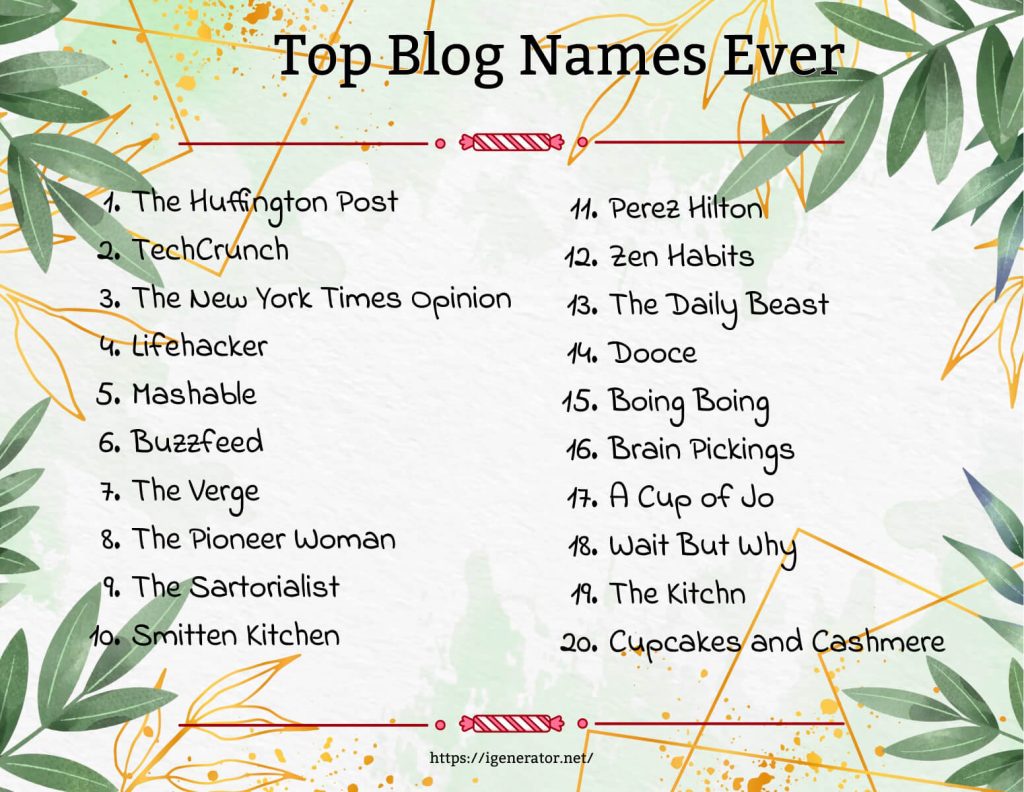 📢 10 Unique Random Blog Names
Blissful Journeys
TinyChef's Tales
Radiant Wellness Hub
Fitness Fusion Focus
Bold & Boundless
Urban Explorer Chronicles
Soulful Scribbles
Tech Savvy Travels
Harmonious Homestead
Wanderlust Whispers
Elevate your blogging journey with our Blog Name Generator. Explore a world of unique, calm, and captivating blog names tailored to your preferences and niche. From lifestyle musings to specialized niches like mental health and sports, discover the perfect blog name that sets you apart!