Welcome to our innovative tool, where your poetic journey begins with just a click!
Our Poetry Title Generator is here to spark your imagination and set you on a poetic adventure.
🌟 How to Use the Poetry Title Generator: Guide
Step 1: Choose the Amount of Titles
Start by selecting the number of poetry titles you wish to generate. You can choose any number from 1 to 10, depending on your creative needs.
Step 2: Click "Generate Poetry and Poem Titles"
Once you've set the desired titles, it's time to breathe life into your creativity. Click the Generate button, and watch as our state-of-the-art AI conjures a list of titles.
📢 Unlock the Potential: 10 Popular Poetry Titles
For those moments when you need a nudge, here are ten popular poetry titles:
| | |
| --- | --- |
| Poetry Title | Theme |
| "Ode to the Nightingale" | Nature and Beauty |
| "The Road Not Taken" | Choices and Regret |
| "The Love Song of J. Alfred Prufrock" | Modern Alienation |
| "I Wandered Lonely as a Cloud" | Solitude and Nature |
| "To Autumn" | Transience of Seasons |
| "The Raven" | Grief and Loss |
| "Sonnet 18" | Love and Immortality |
| "The Waste Land" | Cultural Decay |
| "Invictus" | Resilience and Strength |
| "If" | Perseverance and Wisdom |
🚀 Top Poetry Titles in 2023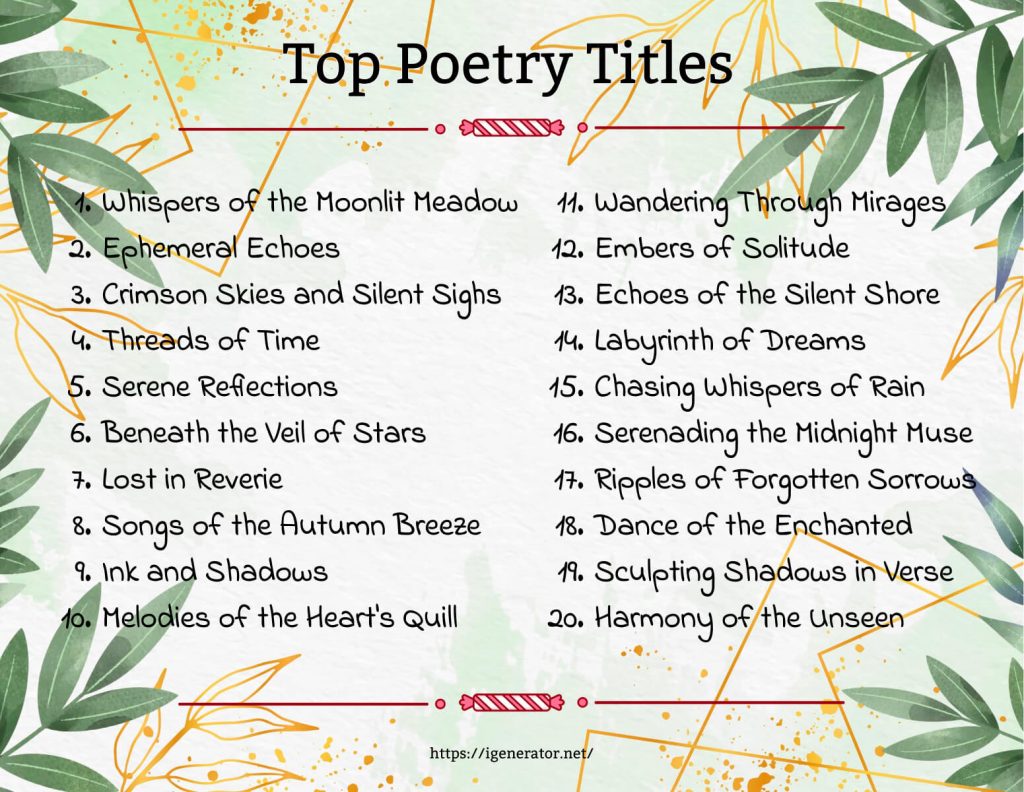 🥇 10 Common Poetry Titles
Here are ten ordinary poetry titles to ignite your imagination:
Love's Silent Echoes
The Art of Solitude
A Symphony of Tears
Dreams We Carried
Serenade of the Stars
Echoes of Eternity
Whispers in the Breeze
Fragments of a Smile
Chronicles of the Heart
Verses Unwritten
Our Poetry Title Generator isn't just a tool – it's your muse. Infuse your generated titles with emotions, themes, and messages that matter most to you.
Powered by cutting-edge AI technology, our generator understands the artistry behind poetry. It captures the essence of your words and translates them into titles that encapsulate your poetic intentions.