Greetings, adventurer! Welcome to our Online Fantasy Title Generator—an enchanted tool to fuel and guide you.
👾 Navigating the Fantasy Title Generator: A Step-by-Step Odyssey
Step 1: Setting the Stage
Begin by specifying the number of titles you wish to conjure. Are you seeking a modest selection or a bounty of options to illuminate your path? The power is yours, allowing you to summon up to 10 titles with each invocation.
Step 2: Conjuring Enchantment
With your desired number of titles, embrace the mystique as you breathe life into the process. With a determined click of the "Generate Fantasy Titles" button, you set a dance of words in motion. Feel the anticipation as our algorithm weaves together individual syllables to craft titles that mirror your desires.
Step 3: A Tapestry of Titles
Behold, as if from the annals of an ancient tome, a collection of fantasy titles materializes before your eyes. Each title is a threshold to uncharted territories, a mere glimpse into the heart of untold sagas.
🧛‍♂️ Epic Quests: 10 Fantasy Titles
Rogue's Lament: A Tale of Shattered Shadows
Abyssal Embers: Chronicles of the Voidwalker
Scepter of Elysium: Veil of the Enchanter
Lorebound: Chronicles of Forgotten Realms
Wings of Obsidian: Song of the Sky Serpent
Empire of Echoes: Chronicles of the Astral Sovereign
Starcursed Destiny: Veil of the Celestial Guardian
Ebonfire Prophecy: Shadows of the Arcanist
Silent Siege: Echoes of the Cursed King
Veins of Verdant: Chronicles of the Sylvan Veil
🧙‍♂️ Top Fantasy Titles in 2023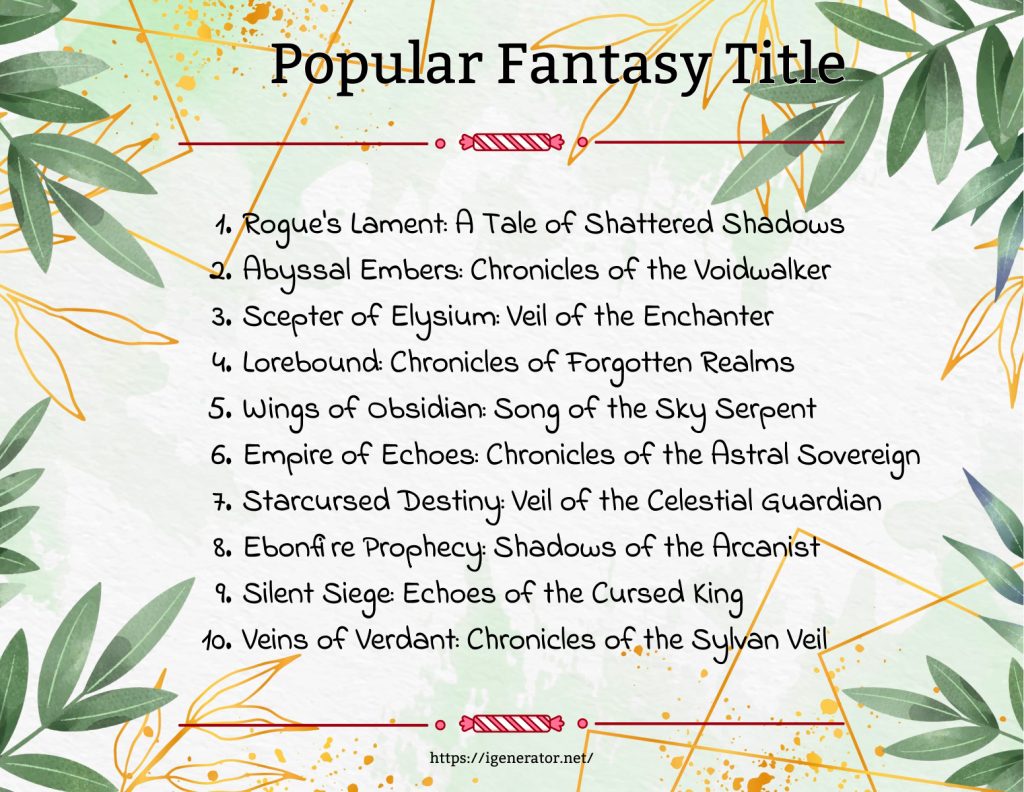 🌟 Examples of Great Fantasy Titles
| | |
| --- | --- |
| Fantasy Title | Subtitle or Tagline |
| Royal Chronicles | Secrets of the Sapphire Throne |
| Whispers of the Urban Enclave | Shadows in the Mist |
| The Draconian Legacy | Flames of Destiny |
| Eclipse of the Fae | Chronicles of Lumina |
| Darkened Realms | Cursed Kingdoms Reborn |
| Quest for the Ethereal Crown | Prophecy Unveiled |
| Echoes of Eternity | Chronicles of the Time Weaver |
| Serpentine Alchemy | Chronicles of the Arcane |
| Throne of Legends | Forgotten Heir |
| Crimson Skies | Chronicles of the Blood Moon |
Fantasy Title Generator is your guide, ready to fuel your ingenuity, breathe life into your concepts, and lead you toward storytelling greatness.