Hey there! Are you ready to find the most excellent name for your fantasy football team? Our unique tool, the Fantasy Football Team Name Generator, is here to help you! It's like a treasure chest full of notable names for your team, whether you're playing in the Premier League NFL or just having fun creating your dream team.
🏈 How to Use the Fantasy Football League Team Name Generator
Choose How Many Names You Want: Pick how many awesome names you want to see!
Picking Male or Female Names: You can choose if you want names for a man, a woman, or a mix of both!
Ready, Set, Generate: Click the magical "Generate FFL Team Names" button to see the fantastic names appear!
🏆 10 Super Cool Fantasy Football Team Names with Meanings
| Team Name | What it Means |
| --- | --- |
| Blitz Brigade | Super fast and powerful team! |
| Gridiron Gladiators | Shows how tough and determined your team is! |
| Victory Vanguards | Ready to win and never give up! |
| Thunder Titans | Strong and dominating, just like lightning! |
| Mystic Mavericks | Always surprising and hard to predict! |
| Celestial Chargers | A team that can't be stopped, like a comet! |
| Rogue Renegades | Rebels who play by their own rules! |
| Phoenix Fury | Rising up strong, just like a phoenix! |
| Dynasty Dominators | The best team, making history! |
| Eternal Enforcers | Unstoppable and super determined! |
🔥 Top 20 Awesome FFL Team Names You'll Love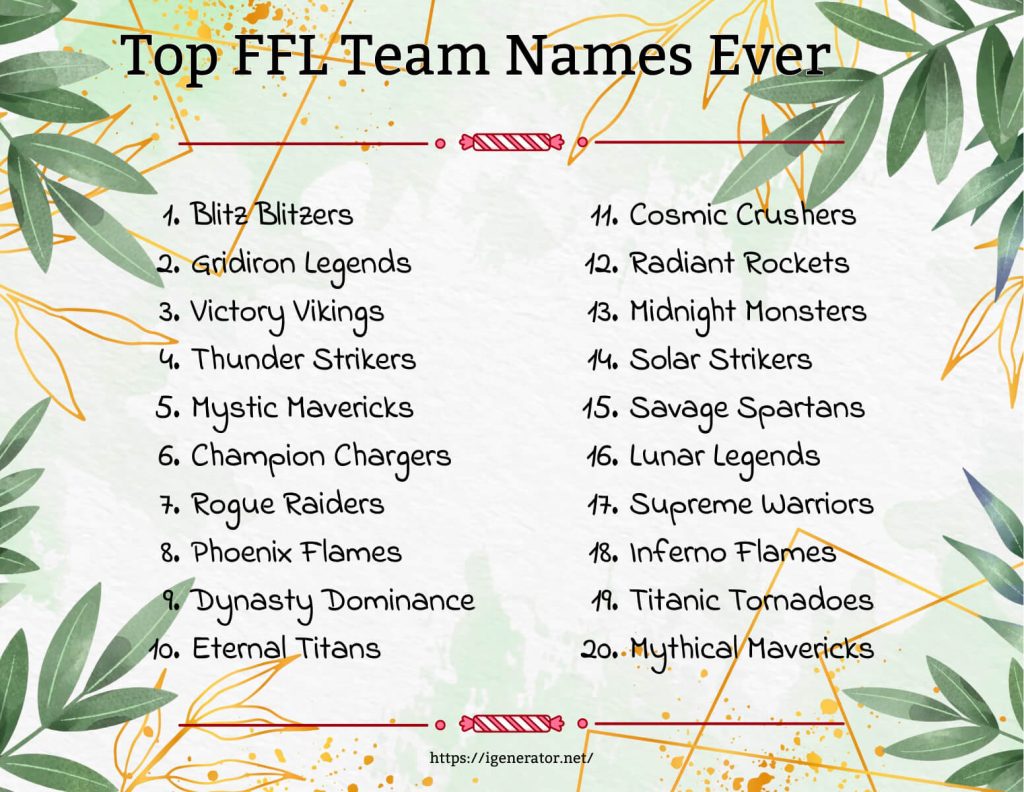 🌟 10 Amazingly Unique Fantasy Football Team Names
Thundering Tycoons
Solar Sirens
Midnight Marauders
Cosmic Crusaders
Radiant Rebels
Quantum Quasars
Serene Saboteurs
Crimson Cyclones
Luminous Legends
Ethereal Eagles
Get ready for an incredible adventure with our Fantasy Football Team Name Maker! Explore lots of fun names and pick the perfect one for your team.