Welcome to our Online Singer Name Generator. 
If you're an aspiring vocalist or looking for a creative outlet, our Singer Name Generator is your path to an alluring persona. In this detailed guide, we'll guide you through the straightforward process of using our generator and furnish you with a vast array of renowned and unique singer names.
📢 How to Use: Singer Name Generators Guide
Step 1: Specify the Number of Names
To begin your journey, navigate to our Singer Name Generator page and specify the number of names you wish to generate. You can select any number that aligns with your vision, ranging from a minimum of one to a maximum of ten or even more if your imagination knows no bounds.
Step 2: Define the Desired Gender
Generator empowers you with three choices: Male, Female, or Random. Opting for "Random" will surprise you with an eclectic assortment of names suitable for any musical genre.
Step 3: Activate the "Create" Function
After specifying the quantity and gender preferences, click the "Create Singer Names" button, and behold, our potent generator crafts a selection of captivating and distinctive singer names tailored exclusively for you.
🎤 Popular Singer Names with Meanings
Here, we present ten renowned singer names, each accompanied by its inherent meaning:
| | | |
| --- | --- | --- |
| Artist Name | Genre | Era |
| The Beatles | Rock | 1960s-1970s |
| Michael Jackson | Pop | 1980s-2000s |
| Bob Marley | Reggae | 1970s-1980s |
| Elvis Presley | Rock 'n' Roll | 1950s-1970s |
| Madonna | Pop | 1980s-2000s |
| Freddie Mercury | Rock | 1970s-1980s |
| Beyoncé | R&B/Pop | 2000s-Present |
| Frank Sinatra | Jazz | 1940s-1990s |
| Nirvana | Grunge | 1990s |
| Queen | Rock | 1970s-1990s |
🎙️ List of the Top Artist Names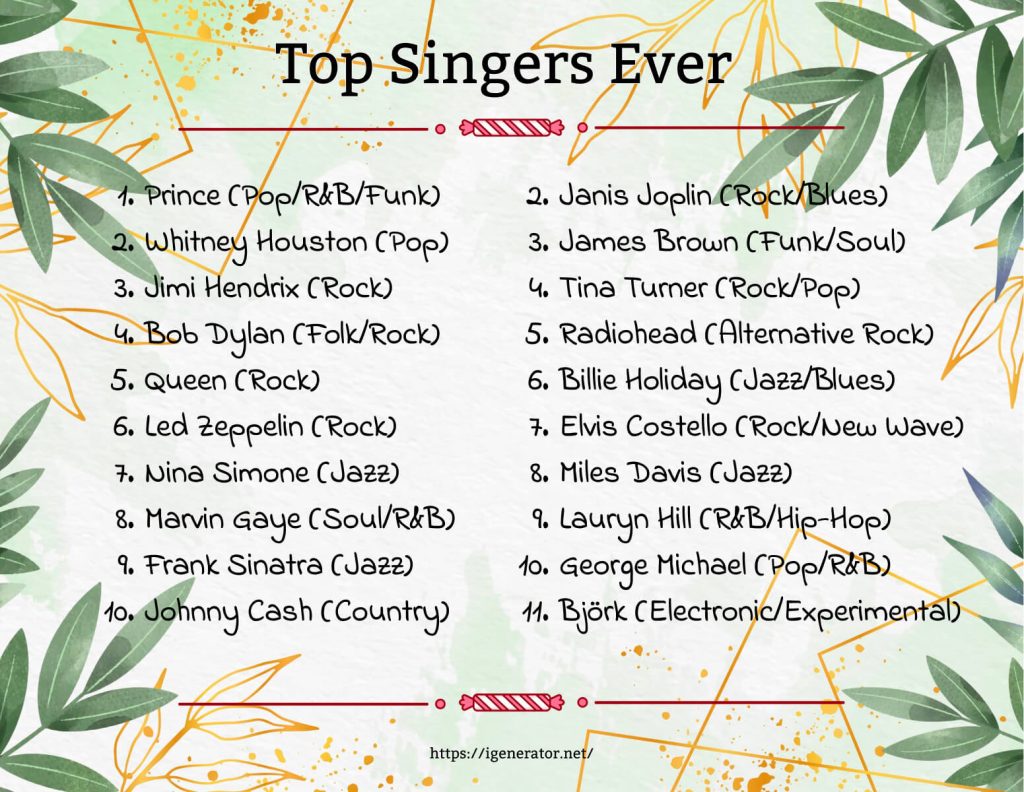 📀 Unique Random Singer Names
For those seeking uncharted territory, here are ten unique and randomly generated singer names for your consideration:
Velvet Sky
Echo Harmonix
Luna Serenada
Crimson Cadence
Stardust Chanteur
Azure Aria
Nova Vox
Solstice Croon
Midnight Encore
Ember Divinity
Our Singer Name Generator is the quintessential choice for vocalists spanning a spectrum of genres, including blues, country, folk, jazz, K-pop, lounge, lyric, r&b, opera, and rock. With its capacity to generate random and appealing name ideas, you'll uncover a stage name that seamlessly aligns with your vocal prowess.