🌟 How Wolf Name Generator Works
Wolf Name Generator ignites your creativity and provides the perfect names for your wolf companions.
Follow these simple steps to summon your pack's unique identities:
Decide the number of names you desire – from a cozy pair to a thriving group of ten.
Select your preferred wolf gender from the Mixed, Male, or Female dropdown list. This choice will infuse a particular essence into your chosen names.
Once you've set your preferences, let your intuition guide you to the "Generate Wolf Names" button. Click, and watch as a howl of creativity fills your screen.
🏆 Top Wolf Names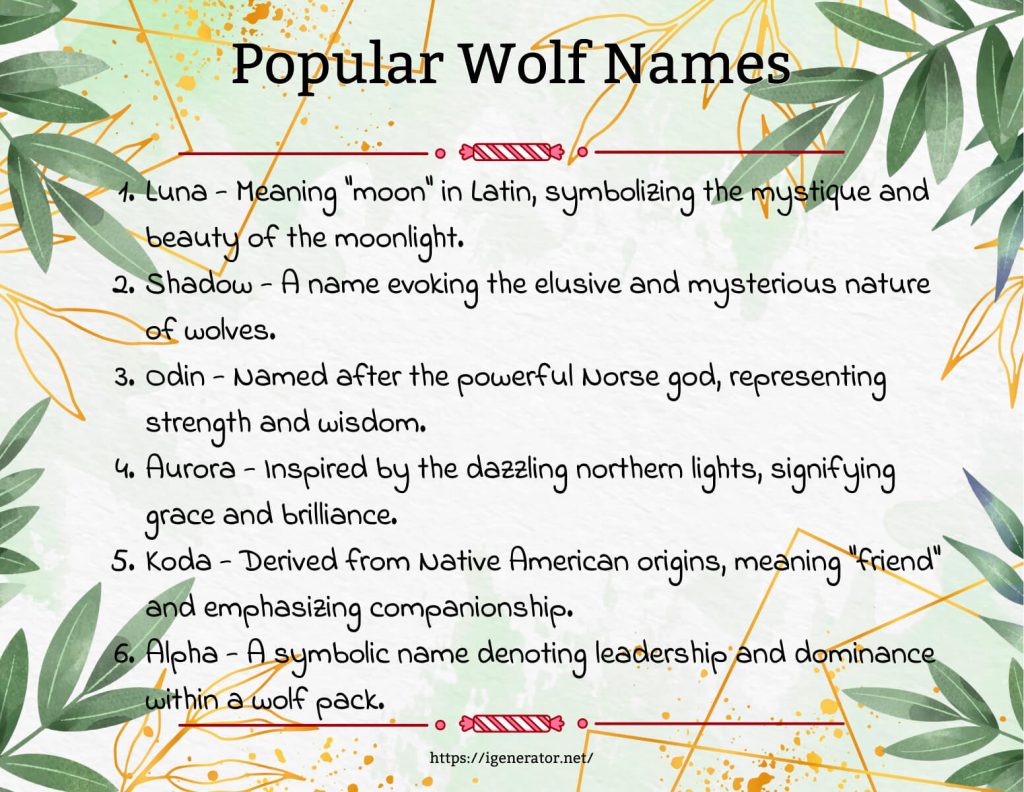 List of Most Popular Wolf Names
Akela
Big Bad Wolf
Bigby Wolf
Gmork
Maugrim
Raksha
White Fang
Amarok
Asena
Fenrir
💼 Examples of Wolf Names
| | | |
| --- | --- | --- |
| Name | Gender | Meaning |
| Luna | Female | Symbolizing the moon's mystique |
| Zephyr | Mixed | Evoking a gentle breeze |
| Ragnar | Male | A name of Norse origins, signifying power |
| Selene | Female | Greek goddess of the moon |
| Koda | Mixed | Meaning "friend" in Native American |
| Amarok | Male | Inuit mythology – the wolf god |
| Freya | Female | Norse goddess of love and fertility |
| Orion | Mixed | Named after a prominent constellation |
| Ulva | Female | A poetic nod to "she-wolf" in Latin |
| Keegan | Mixed | An Irish name representing bravery |