Are you ready to add a bit of humor and wit to your day? Our Random Insult Generator is here to provide you with a dose of amusement or an opportunity to test your ability to craft the perfect retort. 
😂 Step-by-Step Guide to Making the Most of this Entertaining Insult Generator
Getting Started:
To access the Random Insult Generator, navigate to our webpage. You'll immediately notice the options to customize your experience.
Selecting Quantity:
You can decide how many insults you'd like to generate at once. Choose a number between 1 and 5, and enter it in the "How much?" field. This determines the number of random insults you'll receive in a single go.
Generate Insult:
Once you've chosen your quantity, hit the "Generate Insult" button. Our AI-driven system will quickly craft and deliver a specified number of humorous and sometimes cheeky insults.
🙄 10 Popular Random Insults
| | |
| --- | --- |
| Insult | Meaning |
| "Thou art as fat as butter." | A lighthearted jab at someone's weight. |
| "Thou art a base, proud, shallow thing." | A playful insult regarding shallowness. |
| "Thou misbegotten hell-hound!" | A creative way to call someone a troublemaker. |
| "Thou infectious clapper-clawed maggot-pie!" | A humorous description of an annoying person. |
| "Thy wit's as thick as Tewkesbury mustard." | A clever way to mention someone's lack of wit. |
| "Thou art a boil, a plague sore." | A vivid and funny comparison to an ailment. |
| "Thou art as loathsome as a toad." | A humorous take on appearance. |
| "Thou knotty-pated hedge-born scullion!" | An inventive insult involving someone's intelligence. |
| "Thou bootless sheep-biting malt-worm!" | A playful reference to someone's inadequacy. |
| "Thou impertinent, ill-nurtured barnacle!" | An amusing way to call someone rude. |
🙈 Top 20 Original Insults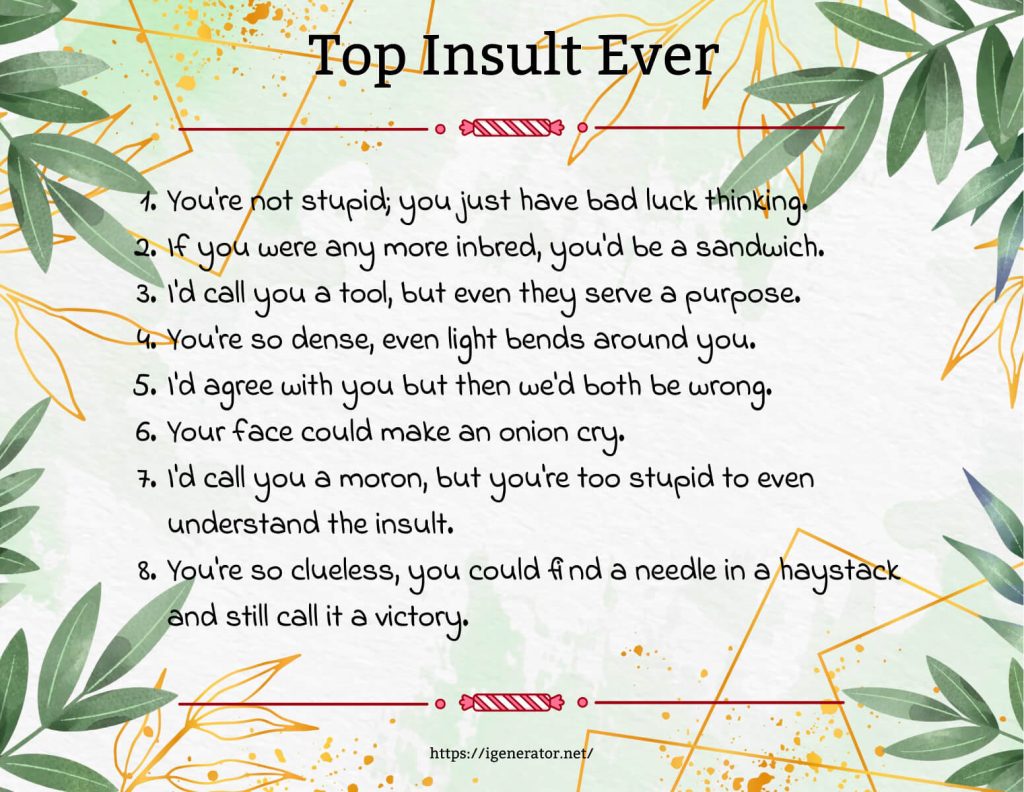 🙃 10 Unique Random Insults
Thou art a veritable troglodyte of conversation!
Thou art like a menu in a language I cannot read.
Thy sense of humor is drier than a desert.
Thou art as helpful as a screen door on a submarine.
Thou hast a face that would stop a clock.
Thou art an expert in the art of annoyance.
Thy intelligence has more gaps than Swiss cheese.
Thou art the human equivalent of a participation award.
Thy grasp on reality is as firm as a banana peel on ice.
Thou art the reason the gene pool needs a lifeguard.